Tattoos of San Judas Tadeo: History, meanings and more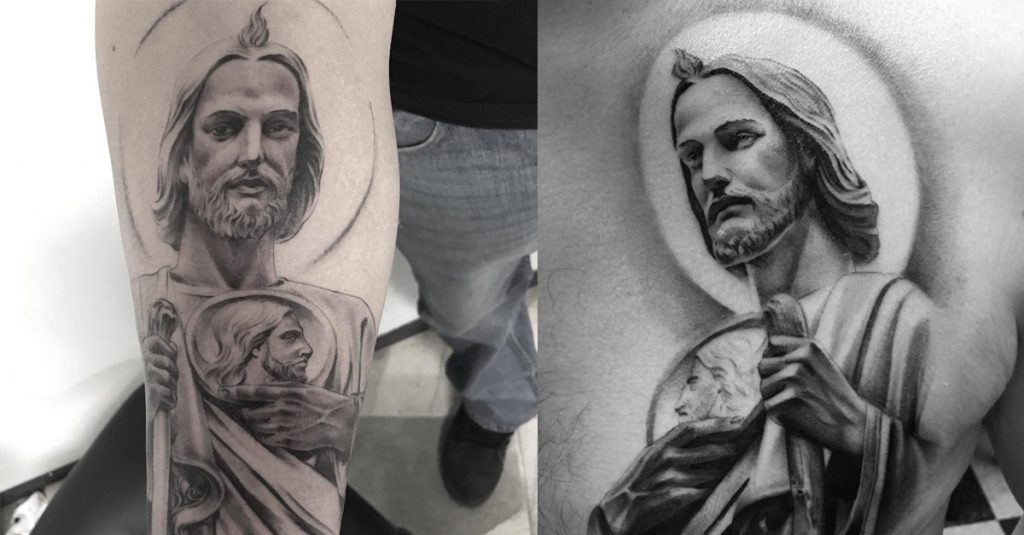 The Tattoos of San Judas Tadeo is a recurring theme for those who venerate the saint of difficult and impossible causes. And is that we all have the odd belief, with more or less strength and get tattoos with meanings related to our religion is very common. That is why today we will deal with the tattoos of Saint Jude Tadeo, the saint of lost causes.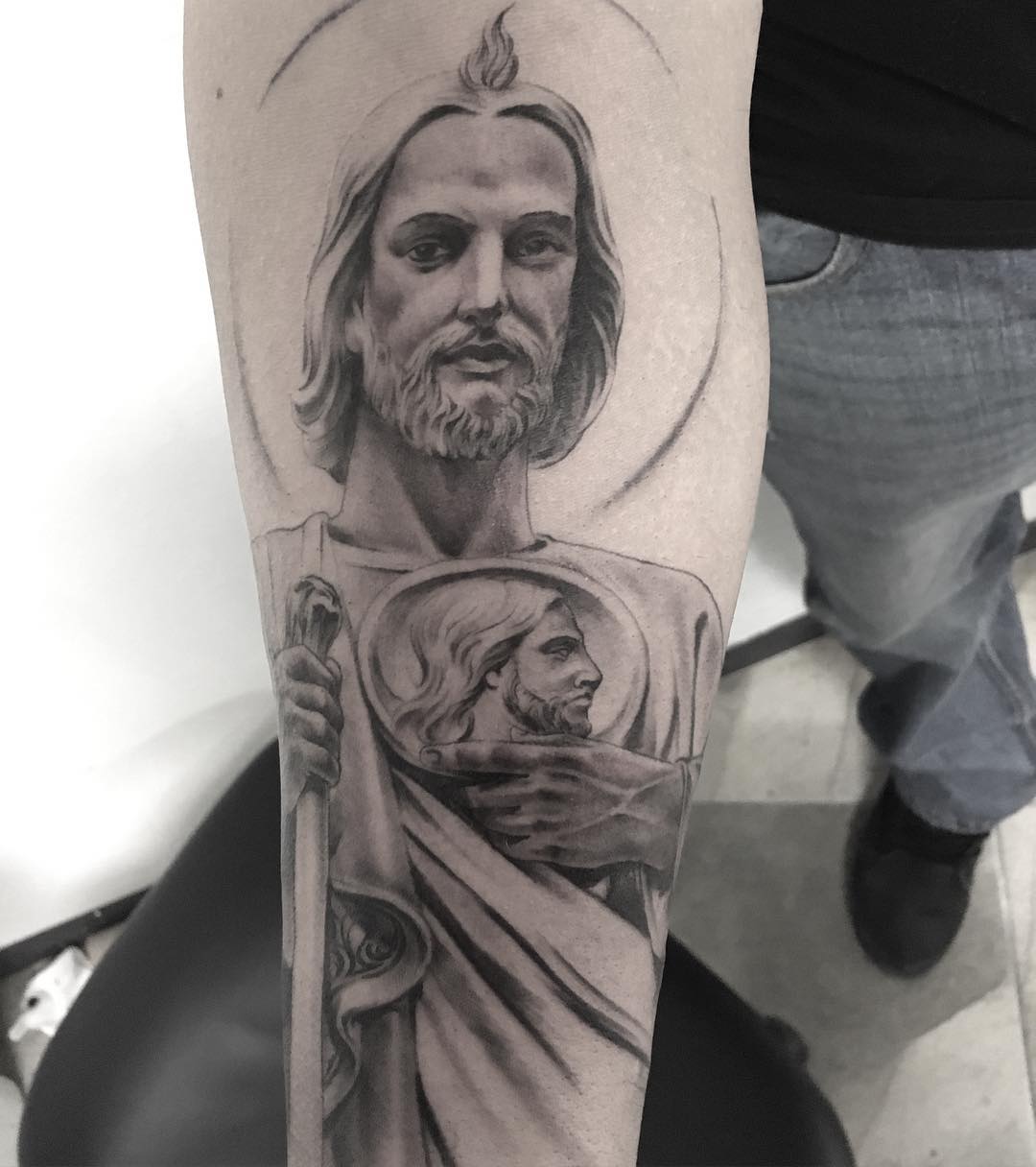 >> I recommend:
What do the Tattoos of San Judas Tadeo mean?
To understand the meaning of the tattoos of San Judas Tadeo, first we must answer: Who is San Judas Tadeo?
According to the biblical texts, St. Jude Thaddeus is one of the disciples of Jesus, one of the twelve apostles that he accompanied at the Last Supper, having an active participation. Jacob's brother, is considered one of the most faithful followers of Jesus. The name " Judas " is a Hebrew word that encloses as meaning " praises be given to God ." On the other hand, the word " Tadeo " is a term that comes from the Aramaic language, where its meaning is " the brave, robust man of the chest ". Also, at other times it was also called " Lebbeo ", which means " man with a tender heart ".
Given that his figure and work is related to good causes, to just and sincere actions, tattooing his figure can be interpreted as a devotion to this approach to life, or as a sign of devotion to the Saint of St. Jude Thaddeus in a sample of gratitude for the fulfillment of promises or good events. In general, it has a high religious nuance and dedication to the beliefs of the person.
In this video you can enjoy the process of making one of the best tattoos of San Judas Tadeo.
When is San Judas Tadeo Day?
The date of celebrations is every October 28 , when the day of San Judas Tadeo is celebrated. His followers pay tribute in various ways, depending on the country and the region. In general, Masses are held, and then festive activities typical of the church. In some places pilgrimages are made as in Chile. In others they accumulate large numbers of people in front of their figure, as in Spain and other ways to pay tribute.
Tattoos images of Saint Jude Thaddeus to Inspire you
So, it is not surprising that many of his followers want to take him with him, as guardian angel of life, when our days are not the easiest. Since his figure is not fully established, the tattoos that usually appear, many do not have sufficient quality. ara los amantes de la tinta en la piel, les traigo una serie de fotos de los mejores trabajos de Tatuajes de San Judas Tadeo . In spite of everything, for lovers of ink on their skin, I bring you a series of photos of the best works of Tattoos of San Judas Tadeo .
More photos of tattoos
Stories related to San Judas Tadeo
In the decision to get a tattoo, it involves a lot the stories behind each job. That's why I want to share with you some related to the figure of the Saint of Saint Jude Tadeo.
The popularity of this saint began in Armenia around the eleventh century, when the Dominicans began to expand their history during their crusades. Came a period of persecution where his image was a little covert and then, about the nineteenth century, his devotion was reborn in Italy and Spain. Due to the European conquests in America, its history expands to the continent, being the United States one of the places where it is most professed.
Already for the twentieth century, the figure of San Judas Tadeo is much more followed in countries such as Peru, Mexico, Panama, Guatemala, Cuba, Chile . In addition, in Spain he continues his devotion. As a curious fact, in some countries you are not venerated with a defined figure, but against prayers and petitions only. Hence, many tattoos of San Judas Tadeo on the arm are phrases with his name.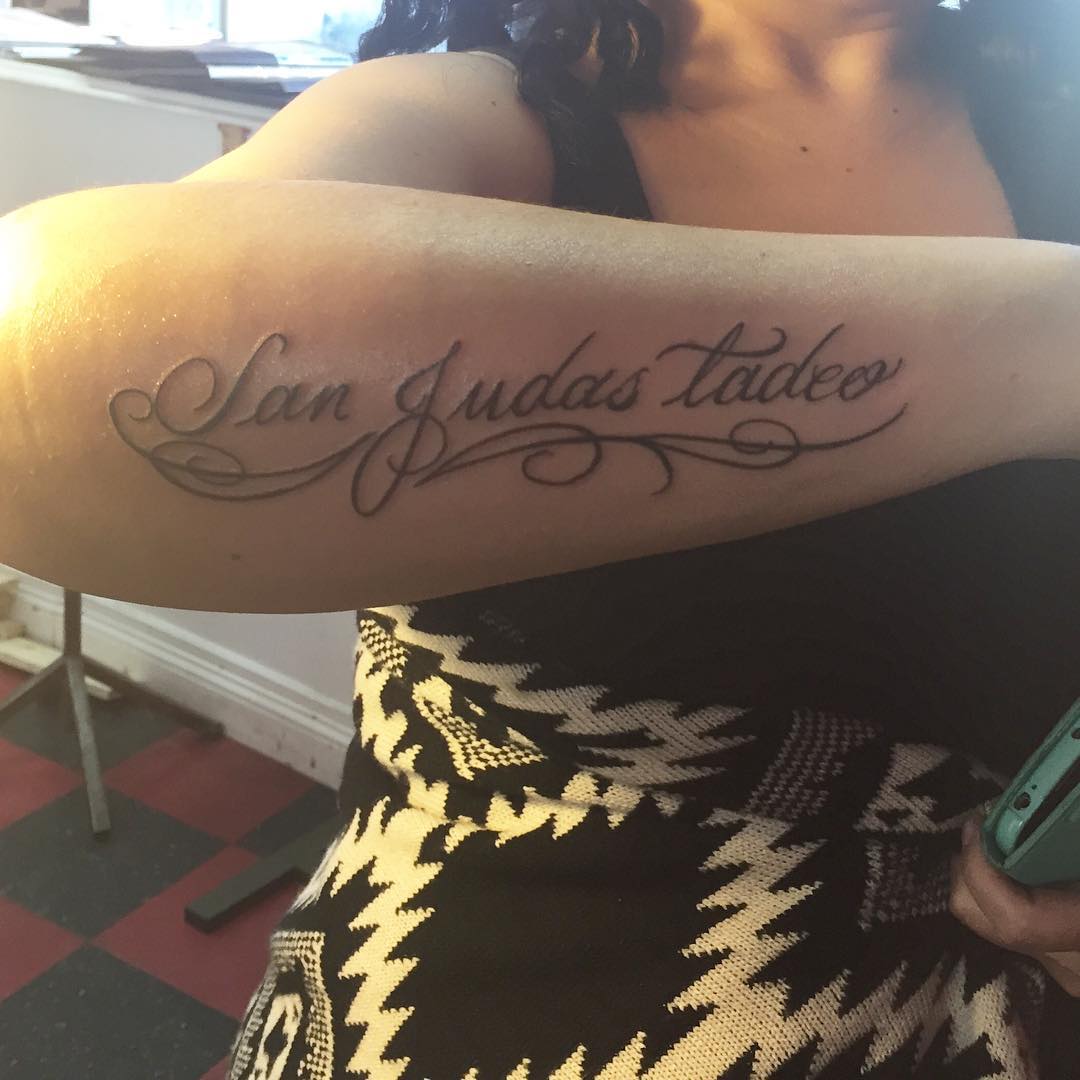 Here I show you another example of tattoos with the phrase of San Judas Tadeo.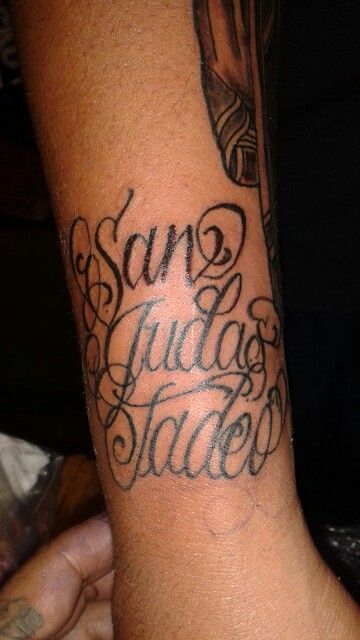 Another symbolic way of representing San Judas Tadeo is through tattoos of figures such as Mazas, Axes, Cimitra or Persian saber, among others. As a curious element, many of his images, the saint carries a medal on his chest representing Jesus. This occurred many years ago because of an error in the interpretation of biblical citations, but since it had already become widespread, it has remained that way in current cultures.
But if you want to expand your knowledge and so decide for a tattoo full of meanings, I leave this video summary about the figure of the saint.
I hope you have enjoyed these excellent tattoos of San Judas Tadeo , its history and meaning. Do not forget to share them with your friends.