Exclusive ideas for Owl and Owl Tattoos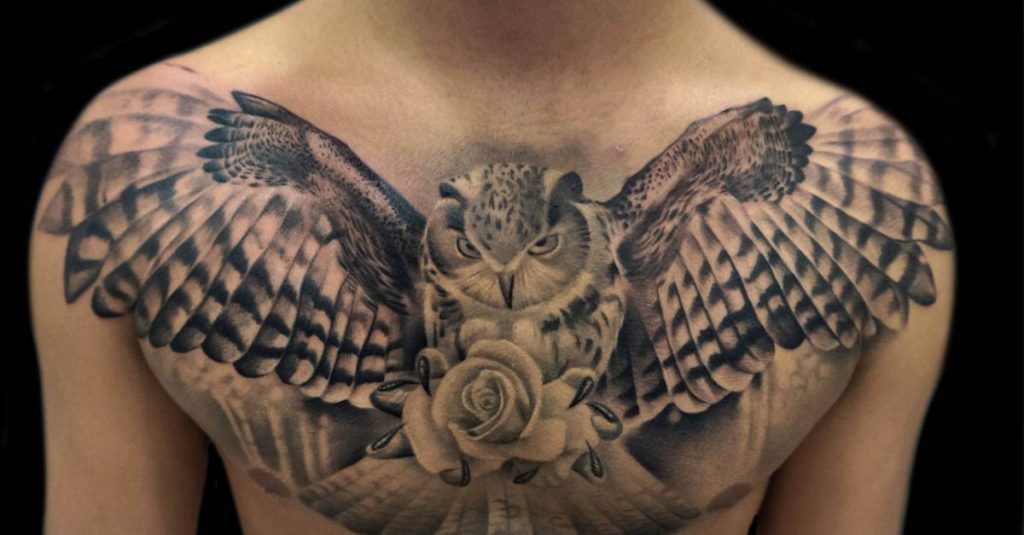 Owl tattoos (Tattoo Owl) has become one of the most sought after tattoo centers, along with pigeon tattoos , they are the two birds most liked by these times, displacing the tattoos of eagles. If you were thinking about this variant, I will talk about them, and you will have better arguments to decide. 😎
Owl tattoos for women and their meanings
Let's start with the girls, who are undoubtedly true followers of the tattoo of owls. In women, owl tattoos signify the maturity they need to find , a feeling of protection on the part of a wise man. They like to do them on the back or on the groin, although others prefer the arms. The use of colors is not the main thing, but the symmetry or balance that work gives us. I show you a series of images of owl tattoos for women.
Small owl tattoos
The other modalities that many prefer of the owl tattoos are the small ones. Those we do with a high degree of discretion but with a lot of meaning. Women are also very fanatical about this modality. They are mainly made on the fingers, the feet, behind the ears and intimate places.
Owl tattoos for men
Boys are also fascinated by owls because of their deep look and the message of wisdom and maturity that they transmit. Men generally like to have this tattoo on their arms and legs, they are not making them small, they are usually large. They also like to play with styles, make them in the form of tribal or geometric. Check these photos and you will see what good ideas.
You already have an idea of ​​how men and women use owl tattoos. But I want to tell you about its history and meaning, something that varies by culture and you should know.
Owls are one of the oldest vertebrates that has reference, given the fossil discoveries, exists more than 60 million years ago. In the time of the Greeks, was associated with the goddess Athena , being a symbol of wisdom and culture , something that is seen in the days of today some cartoons. It was also seen as a victory amulet in the battles that were celebrated. Already in the Middle Ages , perhaps because of the impressiveness of his eyes and his ability to rotate his neck 270 degrees, began to be seen as part of witchcraft and black magic , an element that was inherited today and still used in rites in certain places on the planet.
It was not until the eighteenth century that some naturalists began to study this precious animal and so these false myths were denied. At present, in several countries of Africa it is still seen as an animal with great healing powers , of revelation of thoughts. In other places, like France, it is seen as good luck , or in Russia, the hunters, take their legs as a protection amulet .
Meaning of the Owl Tattoos
Based on all this unique history that takes us from positive to negative elements, is when we find different owl tattoos that inspire various meanings, let's review each one with examples
1. What distinguishes a wise man is the patience to observe, value and then issue a criterion, if it is worthwhile, but his silence will suffice. One of my favorite meanings of owl tattoos.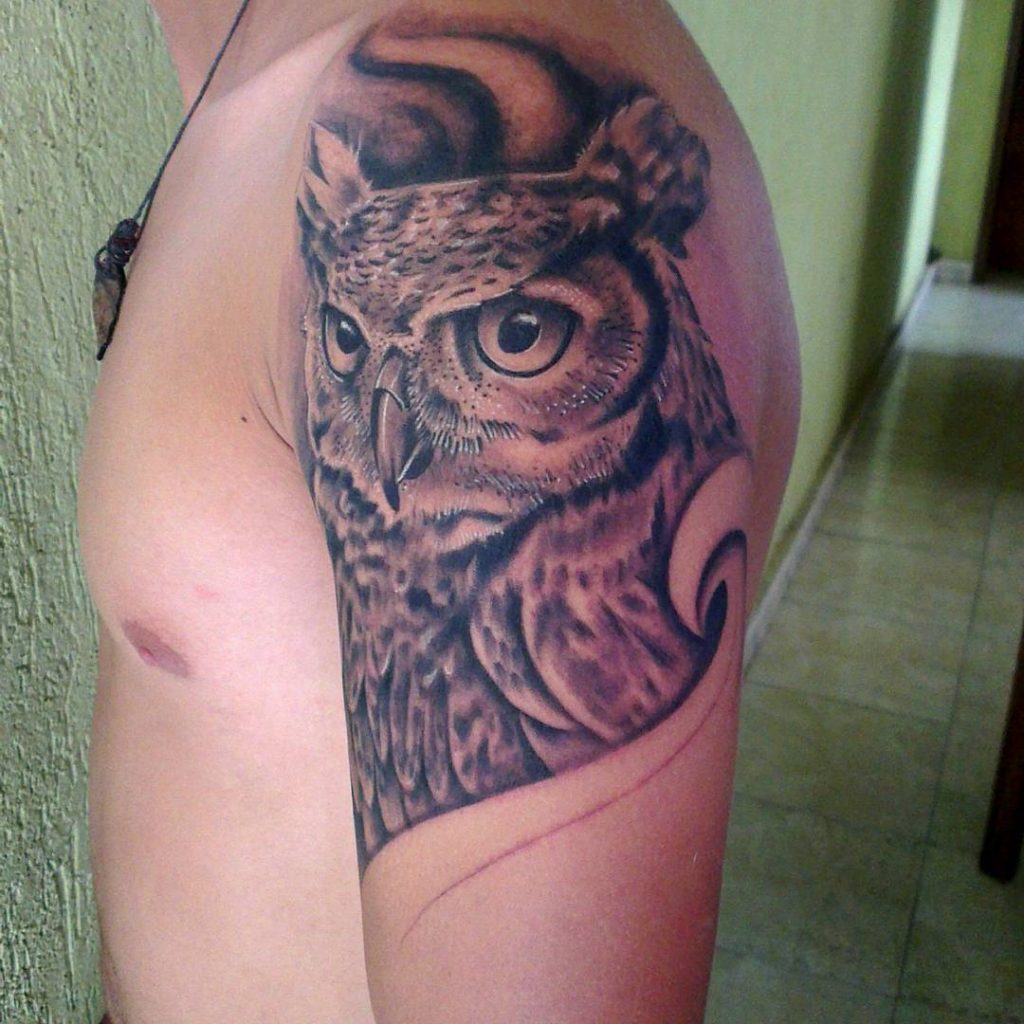 2. Time is our greatest treasure, knowing how to use it with accuracy and wisdom is what will determine the days. A teaching of the owls tattoo. I like many tattoos that have owls with a clock.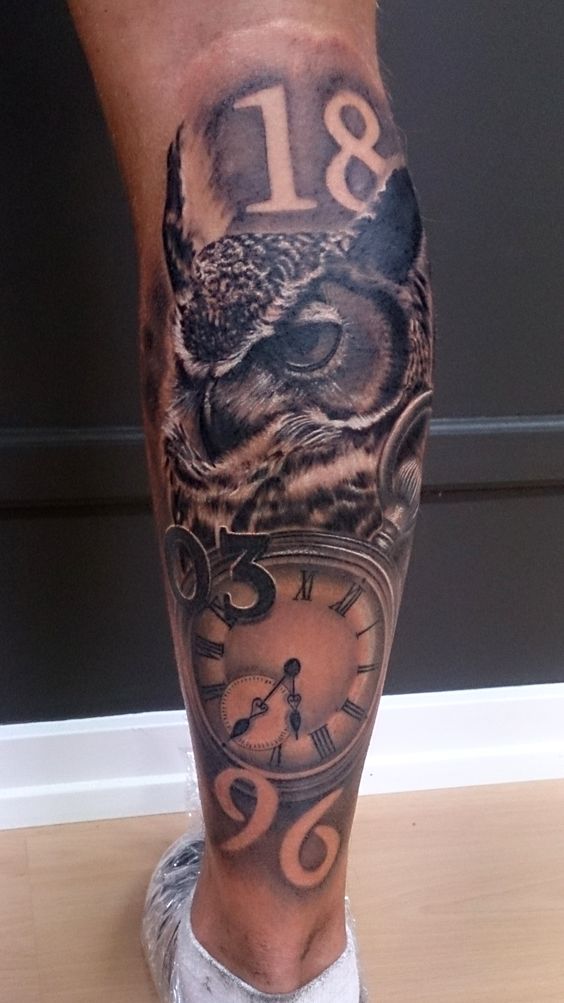 3. Good luck accompanies us at all times of life. This combination with dream catcher is beautiful and is one of those tattoos of owls for women.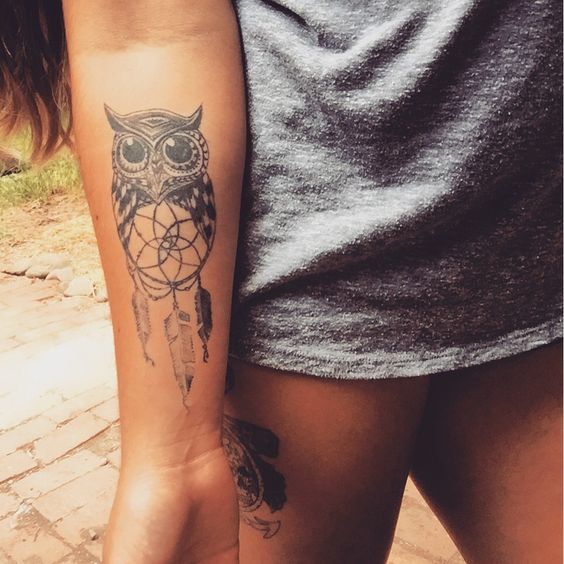 4. Simple and beautiful, deep in thought, sure of every step. These tattoos on the back convey security.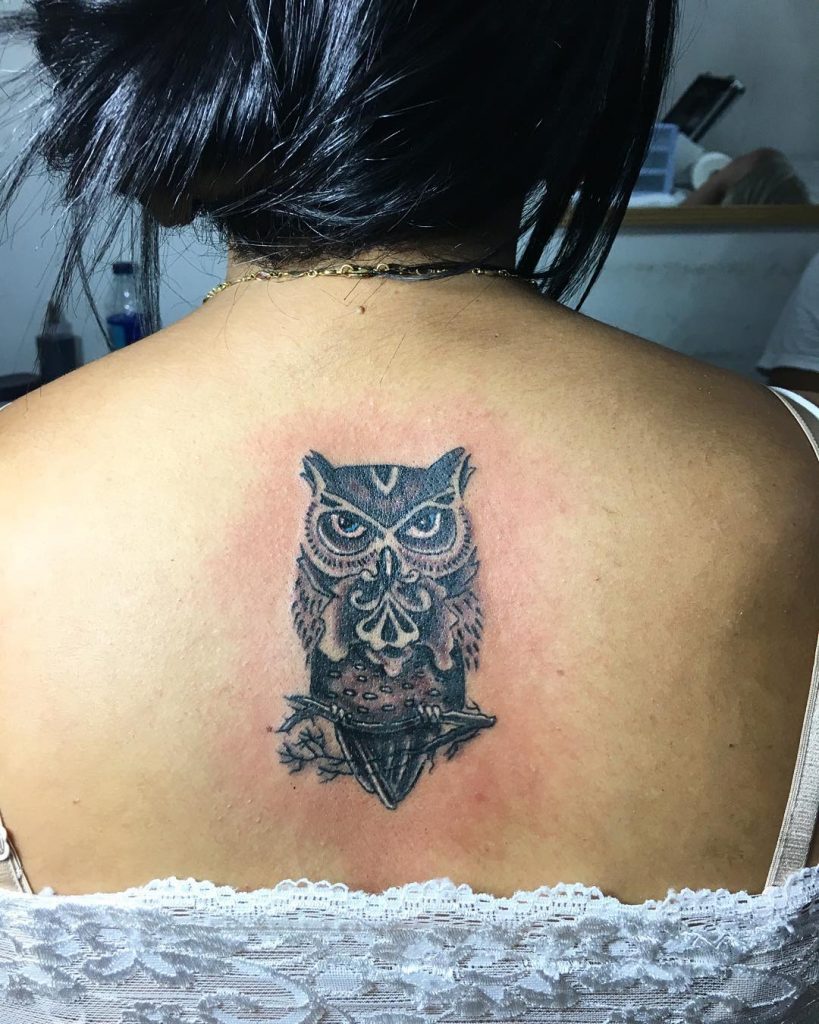 5. Good owl tattoos represent the maturity of our thinking and action .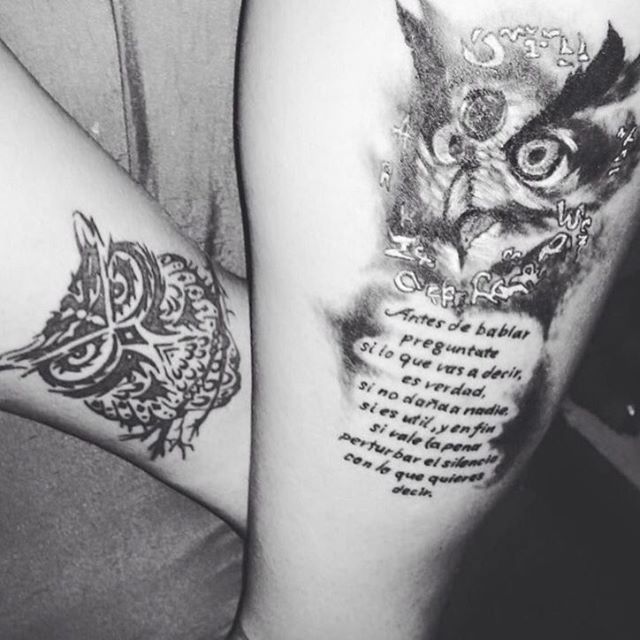 6. Our companion faithful to our steps, as protection against bad times and intentions.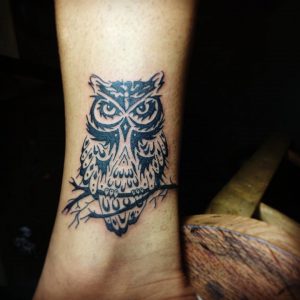 Owl tattoos on the arm
Now I want to take them by the various types of owl and owl tattoos depending on the body part or style. Let's start with the arm, the area most chosen by men and followed by women. Remember that to see the photo in big you just have to click.
What is the difference between owl and owl?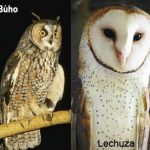 Some have asked me. The owl and the owl are very close families, hence their similarities and many confuse them. To differentiate them, owls are those with the largest and round head , while owls have a more heart shape, with two feather lifts as if they were two ears. In addition, owls have larger and more glued eyes than owls and owls have smaller legs. That is why many pictures are of owl tattoos.
The owl in a tribal tattoo and symmetrical
The owls in tribal is not very used, but if some followers of this style use it. Equally it happens with the symmetrical tattoos of owls, although the figure of this animal lends much to achieve good tattoos.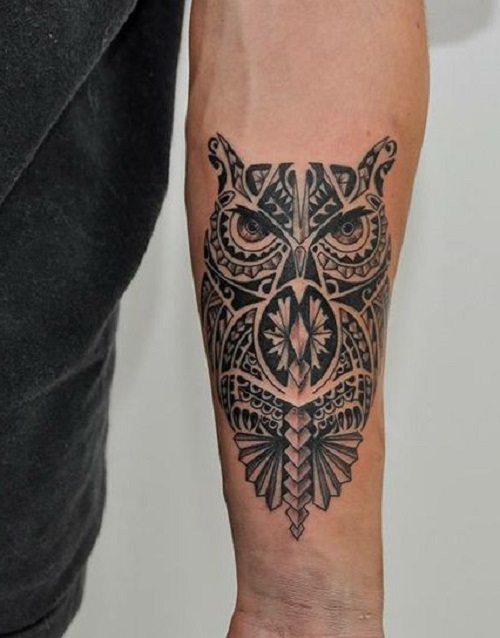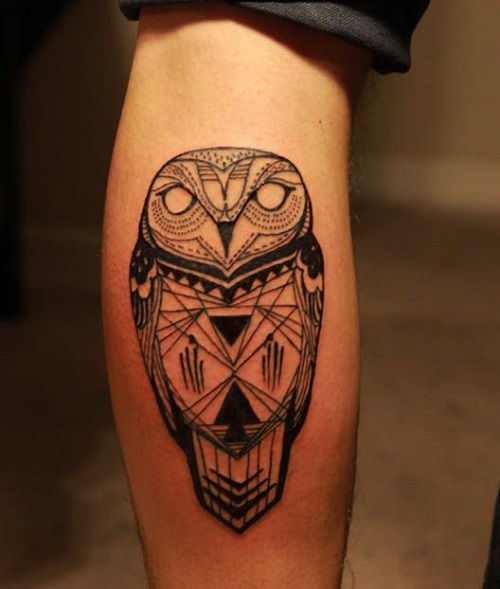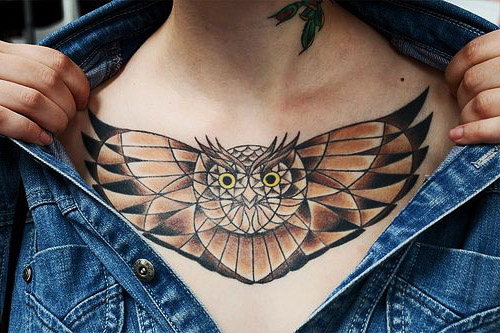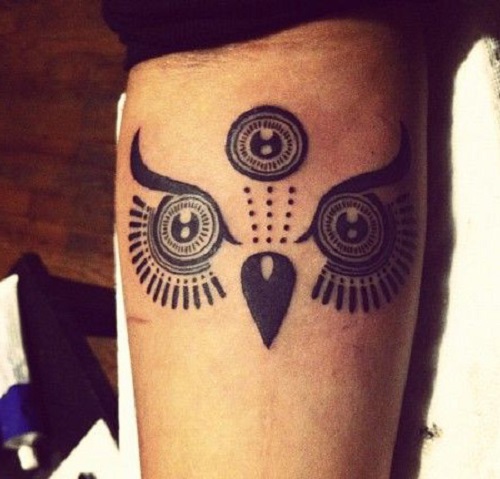 Tattoo images of owls in the hand and wrist
The other body region where some tend to use owls are on the hand, wrist and fingers. The latter being very good small tattoos. Here the key is his expressive eyes and can be accompanied by other topics.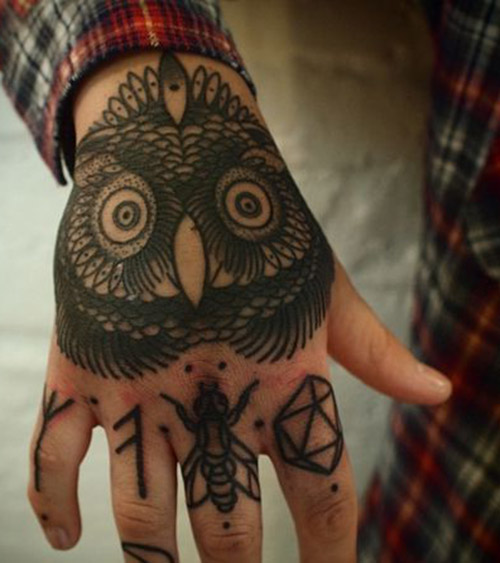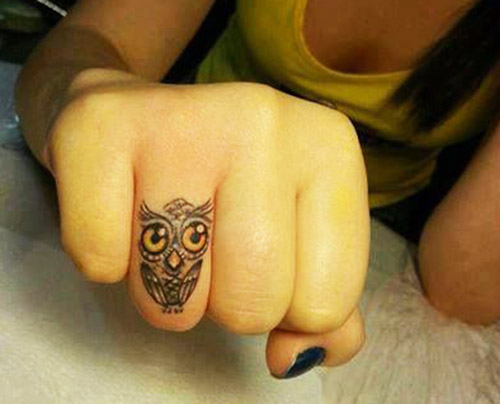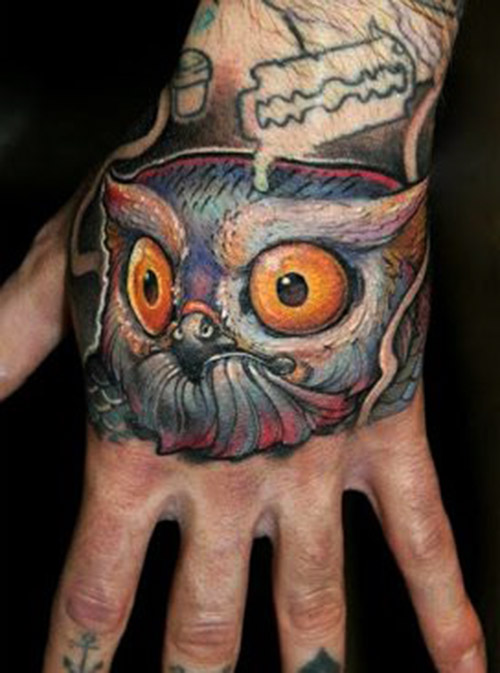 Generally, men like it on the upper part of the hand and women on the fingers.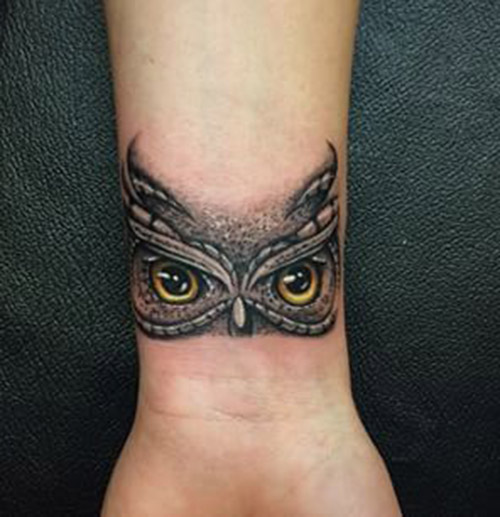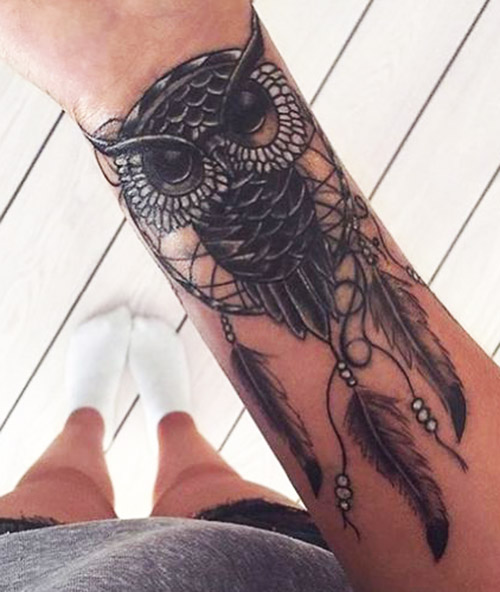 Tattoo images of color owls
In watercolor owls tattoos , the new school I want to show you the new trends with this type of work. Fundamentally you will see the works of the watercolors type and also the small tattoos of owls .
In a trend more faithful to the tattoos of the old school, where it tends to innovate and achieve authentic tattoo jewelry.
Owl Tattoos with Catrinas and Skulls
This trend is born of the festivities of Catrinas in Mexico. Hence, many Mexicans and true followers of their culture are inclined to these combinations. These tattoos have the meaning of veneration and respect for those who are no longer, is a way to pay tribute. In addition it can also be interpreted as a challenge to calculate death.
Tattoos of owls and dream catchers
Dreamcatcher tattoos are used every day more for their deep meaning, if we add to this the owls we have impressive works that have a lot of spiritual meaning. I show you some of these owl tattoos with dream catchers.
Certainly the tattoos of owls and owls are fabulous, but if you still want some more work to assess, I leave you this short video for you to select.
I hope you have valued the quality and meaning that owl tattoos or owl tattoos can entail. If you were looking for inspiration, I hope this has served, otherwise, remember that here you can many more ideas.
Anyway I want to share more works, to complete your ideas to inspire you in the tattoos of owls.
https://www.youtube.com/watch?v=9YhxhfLljmo